Aquarium Acrylic Window Installation
akrilikhavuz™ has technical expertise and in-house engineers specialized in acrylic-panel aquarium window installation. Their team has the capability to flawlessly execute structural drawings and present them to the General Contractor. Acrylic window frames can be made of concrete or steel. The frame is what holds the acrylic aquarium window in place. There are two types of basic frames: three-sided support frames and four-sided support frames. Attention to detail and precision is required for both options to achieve perfect and leak-free installation results.
Many leakage issues stem from incorrect or flawed frame design and improperly prepared frame surfaces. In akrilikhavuz™'s standard aquarium window installation contract, the preparation of concrete or steel surfaces related to the frame is included. We simply request the General Contractor to clean the invisible material through sandblasting or grinding. Additionally, akrilikhavuz™ can assess cold joints and concrete cracks and apply concrete epoxy injection with its epoxy injection equipment and expert staff. This service is a significant addition to our usual scope of work for aquarium window installations. This way, our client can be assured that we are providing a leak-free acrylic window application and achieving excellent results.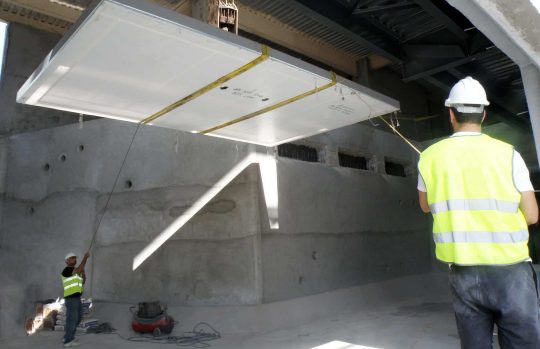 akrilikhavuz™ is the only professional aquarium window installer in the market that contracts for the repair and preparation of concrete or steel casings. While our competitors often try to avoid this responsibility, at akrilikhavuz™, we have the experience and confidence to take on and fulfill this task to ensure that there are no responsibility or liability conflicts or project delays for the general contractor or the client.
akvaryum pencereleri yüklenicisi
As the aquarium window contractor, once the contract is signed, akrilikhavuz™ obtains approval for the casing design and presents the approved plans to the manufacturer for the production of acrylic panels. We establish close relationships with the most suitable acrylic manufacturers to ensure that we can provide our clients with the best prices and guarantee timely delivery.
Concrete Rebate Cast Inspection
Once the general contractor informs akrilikhavuz™ that all casings have been removed from their molds or welded and installed in their locations, the first inspection is conducted, and visits are made to the locations where the casings have been placed. During this visit, we ensure that the installation location aligns with the approved guidance plan. In most cases, on-site access is limited or has special conditions. After confirming access, we inspect the quality of the castings. At this stage, the general contractor should have sandblasted the casings, and there should be no casting material left on them.
For this reason, akrilikhavuz™ window installation experts will closely check the casing opening dimensions. Additionally, they will inspect the quality of the concrete casting or steel welding. Achieving a perfect casing that matches the drawings precisely is nearly impossible. Therefore, we conduct this inspection before sending acrylic panels and before shipping repair materials and acrylic panel installation tools and equipment. Acrylic panels are shipped only after confirmation by akrilikhavuz™. Finally, we coordinate with the general contractor on where and under what conditions the acrylic panels, installation materials, tools, and equipment will be stored at the construction site and ensure that the agreed-upon storage location conditions are safe and suitable.
Concrete Rebate Preperation
akrilikhavuz™ installation experts arrive at the site (installation location) when the surface moisture of the newly poured concrete is below 4%. It is crucial to verify this with technical data sheets in accordance with our repair and waterproofing materials. Following this, we thoroughly inspect the acrylic windows and the next casings to ensure that the installation can proceed smoothly. At this stage, the installation begins with epoxy injection repairs for any cracks. Afterward, we sand the surface to achieve a smoother and flatter finish. All waterproofing preparations on the casings are carried out at this stage. For more detailed information on which materials are suitable for each surface and project, please contact akrilikhavuz™.
Hydrotest of Acrylic Windows
akrilikhavuz™ will be present when the tank is first filled with water. General contractors, MEP services, and third parties such as concrete waterproofing must have completed all their work before water is first filled. We perform a hydrotest and check for any possible leaks. Finally, our staff provides information about the subsequent stages depending on the outcome of this step.
Handover & Warranty Certificate
akrilikhavuz™ provides an all-inclusive warranty certificate. Additionally, our company provides information about safe and proper methods for cleaning and transporting acrylic panels. All aquarium acrylic windows installed by akrilikhavuz™ come with a 5-year structural and optical warranty. The warranty covers the aquarium window installation and every acrylic application.